By STEVE REINBRECHT
Special for Lehigh Valley Business
You'd expect a man who starts an engineering firm to be detailed, methodical and entrepreneurial.
Add skilled at public relations, and you'd have Jeffrey Ott, according to David Renaldo, supervisors' chairman of Washington Township, Northampton County.
"His biggest attribute is his personality to work with the public," Renaldo said. Ott acknowledged his job running Ott Consulting Inc., which he started in 1983, requires more than engineering expertise.
"Hard skills get you into the profession," said Ott, a licensed engineer. "It's the soft skills that let you succeed."
Ott and his staff review plans, oversee publicworks projects and provide other engineering services – such as attending four or five evening meetings a month – for six municipalities. Ott helps Washington Township with budgets, approves releasing escrow to developers and has defended it in court, Renaldo said.
Municipalities are a big part of Ott's work, but the company balances its portfolio with many commercial projects.
For example, it is staking out a 1.1 million square-foot facility in the Chrin Commerce Centre, on 800 acres off Route 33 in Palmer Township, Northampton County.
Ott engineers pinpoint where to put the building corners, footings, columns and walls and will certify the concrete pads.
"The commercial market right now is fairly robust," Ott said.
$1M-PLUS ANNUAL REVENUE
The company has customers west to Williamsport and south into Delaware County. Ott employs another licensed engineer and an engineer in training, engineering technicians, a licensed surveyor, a surveying technician, a geographic information system specialist, and a person who keeps the books and runs the office.
Ott said he has the workload to justify hiring two engineers, but plans to wait until the new year.
Annual revenue has been steady for the past few years at about $1.2 million. He hopes to grow "as needed."
"I have no desire to be a 100-man firm."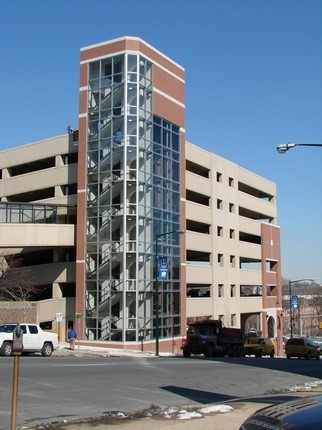 PHOTO COURTESY OF OTT CONSULTING INC.
Ott Consulting provided site engineering and civil engineering services for the construction of a nine-level parking garage for the city of Allentown at Fourth and Hamilton streets.
LIFELONG INTEREST
Beyond about 10 people, he would need to have another engineer who also could manage staff. Ott runs an ad occasionally to gauge talent, but finds most new employees among people he or a staff member knows.
Having a small engineering firm benefits the Washington Township, Renaldo said. He fears his small municipality would be set on a back burner at a big company.
"I've been interested in engineering since I was 12," said Ott, who turned 49 in August and lives in Upper Milford Township with his wife and his two teenage children.
Ott said he always thought he'd start a business when the time was right. He watched his father, Richard Ott Sr., start a business servicing power equipment, which his brother Richard Jr. took over.
CASH FLOW IS TOP OF MIND
Jeffrey Ott earned a bachelor's degree in civil engineering from Drexel University in 1989, concentrating in geotechnical engineering and hydrology. He joined Pennoni Associates Inc., based in Philadelphia with 950 employees, becoming a regional manager of the site design and surveying division.
He founded Ott Consulting Inc. in 2003 and earned a Master of Business Administration from DeSales University in 2004. The advanced degree helps, he said.
"Every Monday morning, I review our numbers," he said.
He compares costs and revenues, and takes quick action if the lines get too close. He sets monthly goals and compares net income with previous periods. If numbers are down for a few weeks in a row, "then it's time to ask questions."
"Cash flow is always on my mind," he said.
IMPACT OF THE RECESSION
The company grew quickly, with 35 employees at its peak, working in the Lehigh Valley, Monroe County and the Poconos. Residential development was a "plum," Ott said.
In November 2006, Ott bought East Penn Engineering Co. in Bangor to extend the company's reach north into the Poconos.
Bad timing.
The Great Recession halted the residential development boom. He had to cut loose many people. The period of 2009-2012 was very difficult. "It was the worst period of my life," he said.
REALIST
Although Ott retained a core group, "I did have to let a lot of great talent go," he said. It changed his outlook.
"I'm not as optimistic as I used to be," he said.
"After you go through a downturn like that, you view things in a different light."
CUSTOMER SATISFACTION IS PARAMOUNT
Ott said he doesn't expect to see much more largetract housing development. For one thing, stricter environmental regulations have made the land subdivision process too expensive for small builders, he said.
Most of his work is from existing clients. New work often comes from recommendations, so he is focused tightly on customer satisfaction.
"A happy client will tell three people about the good experience," he said. "An unhappy client will tell seven people about a bad experience."
So, poor work will run you out of business twice as fast as good work will make you succeed, he noted.
ENGINEER AT HEART
Ott clients include municipalities, institutions, architects, developers, attorneys, corporations, contractors and government agencies.
Despite the demands of his other roles, Ott said he still is in the trenches, working 60-65 hours a week, doing design work every day.
"At heart, I am an engineer, and I'll always be an engineer even with the MBA degree," he said.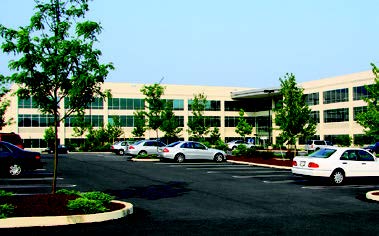 PHOTO COURTESY OF OTT CONSULTING INC.
Ott Consulting provided comprehensive survey services for the Dun & Bradstreet office in the Stabler Corporate Center in Upper Saucon Township.
OTT CONSULTING INC.
What: Provides municipal engineering, civil engineering, land surveying, landdevelopment engineering, site-development engineering, geographic information system mapping and landscape architecture.
Locations: Main Street, Emmaus, and Blue Valley Drive, Bangor.
No. of employees: Nine full-time, two parttime.
Website: www.otteng.com