After approximately 9 years on Main Street in Emmaus, PA, Ott Consulting Inc. [OCI] moved their office to Zionsville, PA for a few years while they searched for office space in the area. Today, Jeffrey L. Ott, P.E., M.B.A., President of OCI is pleased to announce the firm's office is returning to Emmaus.
We partnered with Trainer Enterprises on a joint venture which would include an office for our firm as well as an investment in an apartment project. The site we selected for our office, located at 326 South 2nd Street, is 3.1 acres and adjoins a parcel of land located at 300 Furnace Street which is 6.1 acres with 2 abandoned foundry buildings.
The Furnace Street site was overgrown and unmaintained with building walls full of graffiti and slag covering the ground surface. Our main interest was the purchase of the professional office building at 326 South 2nd Street to be renovated for our new office. The purchase made sense since the site on South 2nd Street provided the potential for a secondary access drive to the parcel on Furnace Street, thereby unlocking the site for a larger project with substantial improvements.
A zoning change would be required to permit the apartments on the Furnace Street parcel. Through a laborious and rigorous planning process, the zoning change was approved. This parcel of land was the number one blighted property in Emmaus. The Borough of Emmaus was supportive in our effort to reclaim this abandoned site for reuse and for a long-term investment in the Borough.
In addition to the zoning change, extensive planning and design has been required including site remediation of contaminated soils, along with approvals from the Borough, the LVPC and a NPDES permit from PADEP. The site plan illustrates the proposed development consisting of 6 three story buildings with 24 apartments each, totaling 144 units. The apartments will include 1 and 2 bedroom units. A major feature of this development is the proximity to Main Street and a walking trail which will be constructed from Furnace Street to South 2nd Street.
The project has been conditionally approved by Emmaus Borough and the ACT 2 cleanup plan has gained approval from DEP. Presently, we are pursuing the NPDES permit approval. We expect 18 to 24 months for construction of the apartment complex. During this very difficult time with the cooperation of State and local government agencies, we feel this project is a testament to OCI's community commitment, engineering expertise, vision and creativity as we will return a blighted property back into a productive site.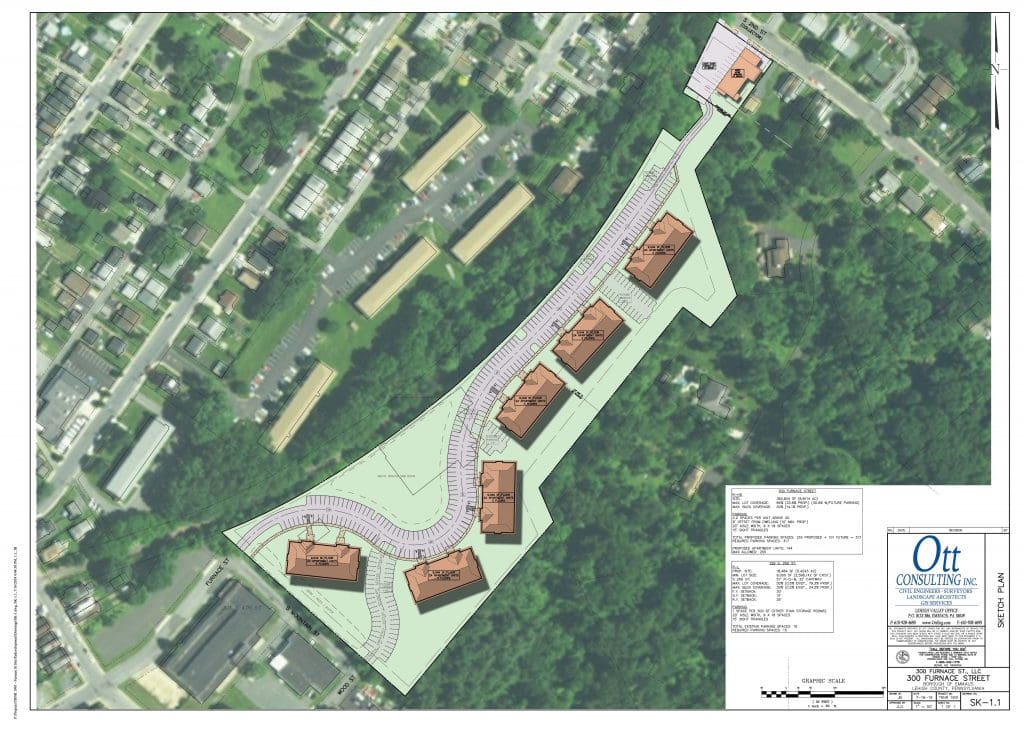 CLICK HERE TO DOWNLOAD SITE PLAN RENDERING
For more information please contact us at:
Lehigh Valley Office: Located in Emmaus, PA
Mailing Address:
PO Box 386
326 S. Second Street
Emmaus, PA 18049
Physical Address:
326 S. Second Street
Emmaus, PA 18049
Phone:(610) 928-4690
Fax: (610) 928-4695
info@otteng.com
Slate Belt Office: Located in Bangor, PA
Mailing and Physical Address:
PO Box 226
6 Broadway
Bangor, PA 18013
(610) 588-2411
(610) 588-6280
info@otteng.com
Summary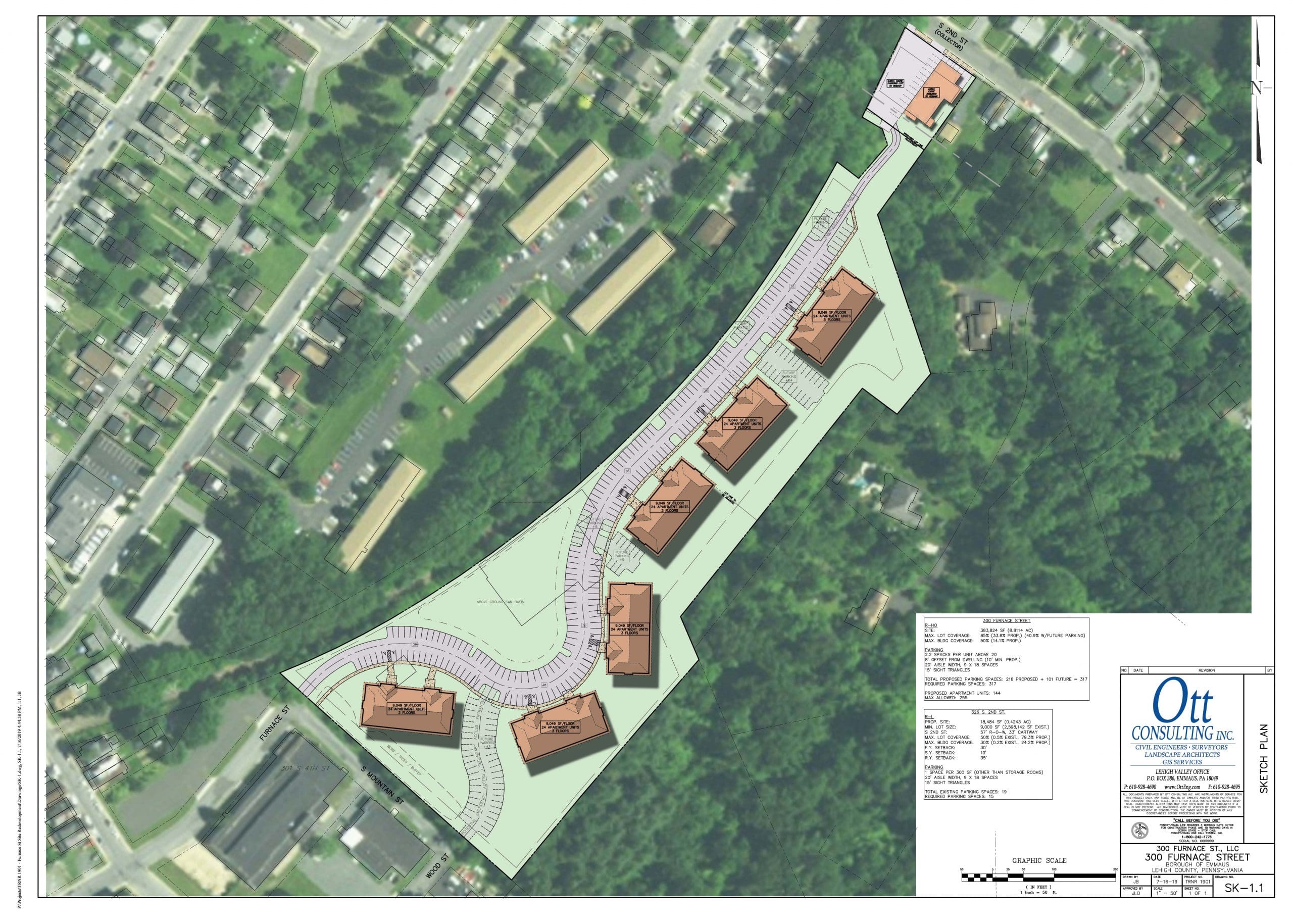 Article Name
Ott Consulting Inc.'s Commitment To Community
Description
Jeffrey L. Ott, P.E., M.B.A., President of OCI is pleased to announce the firm's office is returning to Emmaus.
Author
Jeffrey L. Ott, P.E., M.B.A.
Ott Consulting Inc.