Behind the List with Jeffrey L. Ott of Ott Consulting Inc.'Excellent service with a personal touch'
By Christopher Holland, February 20, 2017 at 6:00 AM Originally published in Lehigh Valley Business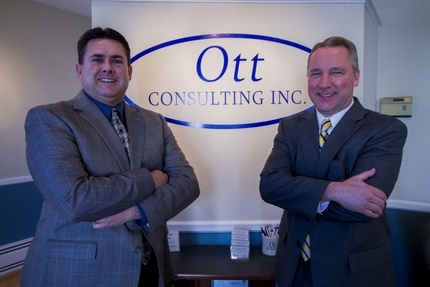 Engineering firms in the Greater Lehigh Valley provide many valuable services to our local communities. Making sure you find a firm that specializes in your needs is imperative to your business endeavor.
Here to answer this week's "Behind the List" questions is Jeffrey L. Ott, president of Ott Consulting Inc. in Emmaus. The company, which also has an office in Bangor, is looking at expanding its services into the Poconos.
Lehigh Valley Business: How long has Ott Consulting been operating in the Greater Lehigh Valley and what are its primary services?
Jeffrey L. Ott: I started the firm with Reynold Petre in 2003. In 2006, we purchased an engineering firm in the Slate Belt to expand our services into the area.
We provide civil engineering, surveying, landscape architecture and geographic information system services to private developers as well as municipal and institutional clients.
LVB: What have been some of the biggest challenges and opportunities that Ott Consulting has encountered throughout its years in business?
Ott: The housing market expansion in 2005 was a significant opportunity for our firm. However, the economic downturn in 2009 provided many challenges to our firm. We were involved in the planning of numerous residential projects which evaporated during the downturn.
However, we were able to find opportunities to work in other segments of the market by diversifying our services. Our focus shifted from the residential market to other markets, which in the long term provided more stability for our firm.
We learned to navigate a tumultuous market, which improved our business savvy.
We find opportunities in underserved segments of the market with a goal to overperform for each and every client. This strategy has resulted in a favorable reputation for our firm in the Lehigh Valley and beyond.
So, at this point, the need to expand our client base has diminished somewhat since the vast majority of our clients are repeat customers. However, we continue to expand as new technology develops.
Reynold Petre, executive vice president and shareholder of the firm, received his Airman Certificate for a Small Unmanned Aircraft System (sUAS), commonly known as a drone. We now have an in-house sUAS pilot, authorized under FAA [Federal Aviation Administration] regulation Part 107, to operate a sUAS to meet the growing needs of our clients.
We will stay on the cutting edge of this technology as it develops.
LVB: What have been some of the most notable projects that Ott has completed on a local level? What projects is the firm currently working on?
Ott: We are very proud of all of our projects. Our goal is continuous improvement in all of our processes.
This attitude has provided us the opportunity to work on such notable projects as the Promenade Shops at Saucon Valley, the Weis Market in Forks Township, the new Faulkner Dealership facility on Stoke Park Road, the six-story Hyatt Place Hotel in the city of Bethlehem, a nine-story parking garage in the city of Allentown as well as several projects at the Saucon Valley Country Club.
Most recently, we completed land development plans and permitting for a two-story, 80,500-square-foot transitional care facility and a five-story, 111-room hotel and banquet center, both located at the former Center Valley Club in Stabler Corporate Center.
We also provided construction survey services for a new 1.1 million-square-foot manufacturing/distribution facility on an 800-acre parcel in the Chrin Commerce Centre. We are currently preparing land development plans for the expansion of an existing restaurant along Route 378 in Saucon Valley.
We have a few other significant projects which are currently in the early stages of planning.
LVB: How does Ott Consulting directly stimulate the local economy?
Ott: We look to hire and employ local talent. Most of our employees graduated from high schools located in the Lehigh Valley and Slate Belt area.
We also generously support a number of local organizations such as the March of Dimes, Allentown Rescue Mission, Lions Club, Kiwanis Club, Boy Scouts of America, Lehigh Valley Economic Development Corp., Emmaus and Bangor High School athletics, the Slate Belt Chamber of Commerce, the Greater Lehigh Valley Chamber of Commerce, the Emmaus Historical Society, local county conservation districts and the Miracle League of the Lehigh Valley.
I also serve as a volunteer for the Slate Belt Rising committee and the Emmaus Borough Code Appeals Board.
LVB: What does the future look like for Ott Consulting? Does it have plans for growth?
Ott: We are excited about our future prospects. We have been in existence for almost 14 years and we have built a solid foundation to expand the firm and our services.
Primarily, we will grow the firm based upon the needs of our clients. We don't have a desire to become a large firm. We prefer to stay on the smaller side and continue to provide excellent service with a personal touch.
However, we do have immediate plans to expand our services into the Pocono region.
For more information about Ott Consulting, Inc., call 610-928-4690 or visit our website at www.OttEng.com
Summary
Article Name
Ott Consulting-Excellent Service With A Personal Touch
Description
We provide civil engineering, surveying, landscape architecture and geographic information system services to private developers as well as municipal and institutional clients.
Author
Jeffrey L. Ott
Ott Consulting Inc